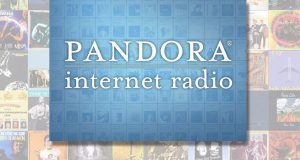 At a current price of $8.61 and market cap of under $1.5 billion, Pandora Media (P) is firmly in small cap territory.  But that's a disappointing situation for a company that reached $20 a share not long after last year's IPO.
Keep in mind, Pandora is an internet/social media company.  And there's typically a lot of excitement around that type of company (Facebook anyone?).
But it doesn't seem the buzz is enough to keep Pandora at a sustainable high price… for the time being.
Here's the thing…
Despite the high expectations and poor performance, Pandora is worth a second look.
First off, you'd think Pandora was showing negative growth or something with how much the stock has fallen.  But that's hardly the case.
In fact, just recently, the company reported stellar March numbers.  March listener hours were up 88% year over year.  Active listeners increased 59%.  And most impressively, the company's radio share jumped from 3% to 5.8%.
That's a huge jump in radio share.  Keep in mind, radio share includes standard radio listeners, satellite radio, and online streaming music like Pandora.
And that's not all…
Pandora just announced a new program that I think is extremely innovative.  It's called "Inside the Music" and it's presented by Intel (INTC).
In a nutshell, the program offers a behind the scenes look at Pandora's music selection process.  Plus, it will allow listeners to pick music based on specific features such as guitar effects, harmonic structure, and vocal harmony.
But what's really important is that the program is targeting 18-34 year olds – who are often the most active users of Pandora's features.
Here's what I like…
Management is wisely targeting the group of people who are most likely to spend money on Pandora's services.  They aren't trying to do too much right now.  They're focusing on the right audience – the one that'll generate revenue.
Even more significant, this program is presented through a partnership with Intel.
Look, Intel doesn't put their name on just anything.  Their reputation is at stake with any sort of advertising campaign or partnership.
What's more, the Intel brand name is often associated with innovation.  And, innovation is exactly what Pandora is achieving with their new program.  There's nothing like it out there.  Of course, it doesn't hurt that it's being supported by a powerhouse company.
Bottom line… Pandora may be underperforming in terms of stock price, but the company is hardly in bad shape.  Their listener numbers are improving substantially.  And, the company is starting a bold, innovative program with Intel.
It may not happen overnight, but I think Pandora is set for a climb.  And at the current price, it could make a nice addition to your portfolio.
Editor's Note:  Today's the day I'm releasing my pick to subscribers in my flagship penny stock service Penny Stock All-Stars.  Don't miss out on your chance to grab shares in this remarkable company that could be the next powerhouse in the industrial electrical equipment industry.  Click here for more information about this exciting service.
Yours in profit,
Gordon Lewis
Category: Internet Stocks