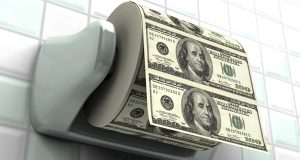 This week we're exposing these three popular Pump & Dumps:  NSU Resources (NOST), Breezer Ventures (BRZV), and Worldwide Food Services (WFSV).
That said, welcome to Pump and Dump Friday, where every week we identify a few of the potentially "bogus" promotions going on in penny stocks today.
If you don't know how these schemes work, be sure to check out this free report that exposes the whole thing.
Without further ado, here are today's "disasters waiting to happen":
NSU Resources (NOST)
Here we go again… another mining/metals pump and dump scheme is off and running.  This time the pumpers are using NSU Resources.
Global Marketing Media, and all their pumping sites, are pushing out emails glorifying this "rare earth" mining play.  They picked up $35,000 to pumps shares of NOST… and they're not alone.  Epic Stock Picks was paid $30,000 to tout this company as well.
So what's all the hype about?
It seems the pumpers want you to focus on the "rare earth" story, not the financial condition of the company.  And for good reason.
First off, the company just became NOST in January this year.  They were previously known as Bio-Carbon Solutions.  The problem is the new company now carries a massive $2.4 accumulated deficit.  That's some serious cheese, considering they raked in all of $5,792 in the first quarter.
Now as far as the pumping goes, it looks like the money was wasted yet again.  Take a peek at the chart below…
Just so you know, the pumping began back on 7/8/12… not even a week ago.  And while the pumpers did cause a one day spike, this penny stock never made it back over the $0.20 it traded at back in June. 
Did the "third party" really spend $65,000 to pump these shares?  You bet they did!  And unless they got out right at $0.14… it was all wasted.
The last thing I'll warn you about on NOST is they're not sure they can remain a going concern.  In other words, they're worried they won't be able to make enough money or raise enough capital to stay in business.
This is yet another penny stock I'd steer well clear of!
Breezer Ventures (BRZV)
Breezer Ventures – no, they're not a sailboat company.  Nope, not a windmill maker either.  That's a perfect company name for either.
Unfortunately, they're just another dig-it-all-up oil, nat gas… and minerals miner?
I love that… a do-it-all developmental stage company.
According to the pumpers, things over at BRZV are all breezy and easy… or at least that's what you're reading from them.  Of course, PennyStock MarketBulls was paid $10,000… so they'll tell you anything to get you to buy the stock!
The pumpers are getting you all wound up over a joint venture with Tristar Energy Group at an old oil well called Jackson.  What they're not telling you is this deal is for a well that's been abandoned for almost 20 years!
What's more, the financial shape of this company is quite sad…
As a developmental stage company, BRZV has $0 revenue.  That's obviously not something I'd be buying personally.  To make matters worse, Breezer has $0 cash on the books.
$0 cash… how do you run a company with no money?
Well, either you don't run the company at all or you just keep issuing shares for as long as investors will buy them.
With a total of $207,123 in accumulated deficit and $0 in cash, I don't see Breezer making a great investment.  Even as a trade, I'd say go find something that's got a chance of making you money – because this stock may not be around for very long!
Worldwide Food Services (WFSV)
Now this sounds like a noble company with a great mission… right?  They serve blind and veteran groups by acting as a distributor to vendors in these areas.  The company also trains blind and veteran food vendors.
So why is the stock being pumped?  Well, because Numark Capital Corp. paid Wall Street Buzz Alerts $10,000 to promote it!  It's pretty simple actually.
Sadly, this company has a laundry list of red flags.
First off, the company doesn't file any financials with the SEC.  What's worse, they've never even bothered to!  For a number of micro-cap companies, SEC filing costs are too expensive to continue paying… so they pull their registration.  But Worldwide never filed… not a good sign.
What's more, WFSV has all of $990 in cash in the bank.  What's the deal with that?  Where does all the money go they made selling to those blind folks?  This company actually has revenue.
You see, Worldwide did $19,116 in sales for Q1 this year.  The problem is, between a $27,894 payroll… and total expenses of $67,000 for the quarter – WFSV lost $48,679!
No matter what the pumpers are telling you on this one, keep it far away from your portfolio.
A final word (and warning).
These are just a few of the potential "pump and dumps" we've seen lately.  Remember, there's a lot more of this going on than we can highlight here.  As you know, penny stocks are a great place to invest your money.  You just have to do your due diligence to stay away from all the schemes and scams out there these days!
Until next time,
Brian Walker
Category: Pump & Dump Alerts