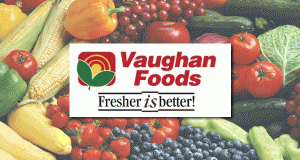 This week's big mover stock gives new meaning to the term 'big mover'.  The shares' recent gains are so impressive, it may give hope to the hopeless… faith to the faithless… and even renewed belief in a higher power… okay maybe not – but you get the picture.
Let's put it this way… I've come across yet another example of how penny stocks can pay off in spectacular fashion.
So what's all the excitement about?
Simple… Vaughan Foods (FOOD).  Or more specifically, FOOD's 285% surge in less than a week.  It's made FOOD the talk of Wall Street.
I'll get back to the skyrocketing stock price in a minute.  First, a little background on the company…
FOOD is a regional provider of fresh-cut vegetables, fruit products, prepackaged salads, soups, sauces, and side dishes.  Their customers are food distributors, regional and national restaurant chains, and retail grocers.
Here's the thing…
Before this week, the stock was virtually non-existent.  I seriously doubt it appeared on a single investor's radar screen.
Not to say FOOD deserved to be ignored.  They do have some things going for them.
This little company generates almost $100 million a year in revenues.  In the most recent quarter, their revenues grew by a solid 9% year over year.  And, they're operating cash flow positive.
But despite the positives, the company was valued at under $4 million by the market.  That's an extremely low valuation for a company with nearly $100 million in revenue.
It's hard to blame investors for their lack of faith in FOOD.
You see, the company's bottom line has been getting hit hard by higher raw material and energy prices.  Profits dwindled and eventually turned negative.  More importantly, they had significantly more debt than cash.
With nearly $12 million in debt and roughly $200,000 in cash, FOOD was in trouble.  Needless to say, the company's immediate growth prospects were dim.
That is until they were rescued by Reser's Fine Foods.  And in a big way.
Here's the deal…
Reser, a privately owned, Oregon based food provider, swept in like a superhero and pulled Vaughan Foods – and their investors – from the depths of despair.  Reser is purchasing FOOD for a whopping $18.25 million… or $1.58 per share.
That's an incredible 285% premium over what FOOD shares were trading for at the time.  And it's the reason for the stock's huge jump in price.
Remaining investors in Vaughan Foods were paid off in spades for their patience.
Now, it doesn't always work out like this.  To some extent, FOOD shareholders got lucky.  But a nearly 300% payday isn't as rare as you might think.  Sometimes you just need to stick to your guns when it comes to penny stocks… that huge payday could be right around the corner.
Yours in profit,
Gordon Lewis
Category: Penny Stocks On The Move