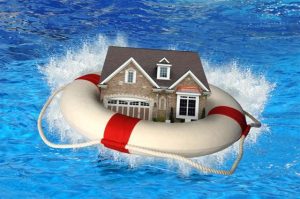 One of the most volatile industries in the market these days is mortgage insurance.  Of course, it's really no surprise.  The vast majority of businesses involved in the housing and mortgage industries are dealing with an uncertain future.
And the mortgage insurance industry has been even crazier than most.  In fact, there are only a few companies still standing.
To be precise, there are basically three companies left specializing in mortgage insurance.  Those three are PMI Group (PMI), MGIC Investment Corp (MTG), and Radian Group (RDN).
I've discussed the problems with PMI before – and how poorly the stock has been doing.  However, all three companies have taken it on the chin this year.
This time around, MTG is the penny stock on the move.  But there's something a little different going on this week… the shares are actually moving higher.
I'll get back to that in a minute.  First, let's take a closer look at the company.
MTG is the largest of the remaining mortgage insurers.  The company's size provides some insulation from disaster… but it also means they have to pay out more claims than anyone else.  And we all know mortgage claims are through the roof.
Investors haven't failed to notice the company's imposing challenges.  Year to date, the stock is down a whopping 71%.
But here's the thing…
The shares have reversed course.  And as of this writing, MTG is up over 72%… this week!
What gives?
In a nutshell… insider buying.
You see, MTG's CFO just purchased 20,000 shares on the open market.  That's his second 20,000-lot purchase this month.  And the day before, the COO purchased his own block of 20,000 shares.
All told, insiders gobbled up 210,000 shares in August.  Clearly, the people who run MTG aren't worried about the company's future.  In fact, they clearly believe in MTG's upside potential.
So is MTG a screaming buy right now?
In a word… maybe.
On one hand, insiders love the stock.  On the other hand, it's their job to show investors they have faith in their own company.  And there are still significant headwinds in the mortgage insurance industry.
Still, there's a potentially positive catalyst on the horizon.  PMI might be on its way out.  And if PMI goes bankrupt, MTG and RDN could capitalize on the additional business.
Bottom line… investing in MTG (and mortgage insurers in general) is a risky proposition.  But insider buying is usually a strong signal a company isn't ready to throw in the towel.  And if this week's huge move higher is any indication, insiders aren't the only investors who believe in MTG's upside potential.
Yours in profit,
Gordon Lewis
Category: Penny Stocks On The Move