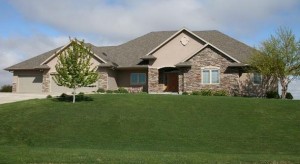 What a week!  Every couple years we have a week like this in the stock market.  I like to describe it as financial pandemonium.
Needless to say, there are plenty of candidates for this week's Penny Stock On The Move.  When the S&P 500 drops roughly 14% in a week – and then rallies 5% in about an hour – there are bound to be plenty of big movers in the markets.
Even after today's furious rally on the close, plenty of penny stocks are still dealing with open wounds.  It makes sense… so many equities have gotten the snot kicked out of them this past week.
And penny stocks have seen more than their fair share of selling during the selloff.
Take PMI Group (PMI) for example.
Here's a company who was already in deep trouble before this week's plunge.  And certainly, the broad market selloff is only making matters worse.
Here's the deal…
PMI provides residential mortgage insurance products to mortgage lenders.  If you've ever bought a house with a down payment under 20%, you've probably heard of PMI (because that means you had to pay extra for their insurance).   Basically, PMI's insurance products pay off lenders in the event of a borrower default.
As you can imagine, PMI's been on the hook for a significant number of mortgage defaults the past few years.  To put it another way, they've been getting their butt kicked.
Just this past week, PMI management announced they may have to shut the company's doors for good.  It's not much of a surprise… they've lost more than $3.5 billion since 2007.
With those kinds of losses, it's amazing they're even still in business.
And if that wasn't enough…
On top of the company's catastrophic losses, the overall market has also been getting crushed.
When PMI announced they may have to shut down, the stock dropped 50% in one day.  The next day, the market started to tumble and the shares lost another 40%.  Ouch!
Look at it this way, in June of 2007, PMI shares traded for over $50.  Today, those same shares are priced at about $0.30.  I certainly hope investors took some profits at $50!
Again, this shouldn't be shocking.  Stocks are already under pressure, and housing companies worst of all.  PMI really stands no chance in this environment.
Who knows… maybe the company will get rescued and continue to operate.  And eventually, when the housing market recovers, they'll return to profitability.  But I wouldn't bet on it.  PMI is dead in the water.  Nothing to see here… move along.
Yours in proft,
Gordon Lewis
Category: Penny Stocks On The Move