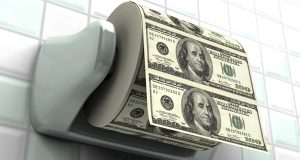 This week we're exposing these three popular Pump & Dumps:  Rarus Technologies (RARS), Great Wall Builders (GWBU), and Media Sentiment (MSEZ).
That said, welcome to Pump and Dump Friday, where every week we identify a few of the potentially "bogus" promotions going on in penny stocks today.
If you don't know how these schemes work, be sure to check out this free report that exposes the whole thing.
Without further ado, here are today's "disasters waiting to happen":
Rarus Technologies (RARS)
The pumpers have made my job easy on RARS.  Not only is Rarus Technologies' business a mess, but the pumpers were so highly paid, it's absurd!
Global Marketing Media, LLC is the owner of both Penny Stock Club and Penny Stock Pros.  They were paid $300,000 to pump shares of Rarus for just one week!  That makes me wonder what I'm doing on this side of the business… wow.
Oh, wait… I have morals – that's right.  Darn morals always get in the way of a huge, easy, sleazy pay day.
Anyway, let's look at what the pumpers are pushing on us this week…
Rarus Technologies is a relatively new business model for the company.  With their new focus on technology, the company bought up Zngle to get access to an Iphone app.   How cool, right?
Wrong!
The problem is, RARS just became a tech company on February 8th.  Prior to that, these guys were in the mineral exploration business and were known as Rarus Minerals.
The pumpers of course won't share that info with you.  They just want to distract you with "Iphone App", and all the usual technical analysis mumbo jumbo.
However, our closer look at their books is appalling…
All the numbers below are from their latest statement, which covers the first quarter of 2012.  And so far, the company has yet to produce any revenue… $0!  Obviously with no revenue, RARS is going to take a loss… and that's exactly what's happened.
In the first quarter, Rarus lost $41,415… and have an accumulated deficit of $194,322 since June of 2010! 
The worst part is, RARS has run out of cash, literally.  The company has $0 in cash on the books as of March 2012!  And without cash, they're obviously going to need to sell shares or find investors to keep the lights on.
Once again, we have another company jumping around from business to business, grasping at straws to stay alive.  That's not something I'd suggest you allow anywhere near your portfolio.
 Great Wall Builders (GWBU)
You know the deal… since I'm still getting emails touting GWBU, we'll still be exposing their activity.
And this week, Centro Azteca S.A. continues to lay out fluff.  Last week, GWBU was better than Facebook (FB)… This week, we get emails touting new contracts for the company.
"GWBU inks 120 million Euro contract – Could break $2 any minute now!"
Hey that's great news, isn't it?  But what they don't tell you is this contract will start in six months… and be dragged out quarterly until 2015!
The problem is, how will GWBU supply the products to meet the demand?
If you'll recall, Great Wall has $0 cash as of March 31, 2012.  And they have $70,508 in liabilities.  How exactly will they pay their debt?  Or really, how will they pay for anything?
No, it's just more hype by the pumpers to grab your attention in hopes you'll buy the stock.  And it looks like they really are running out of entertaining lines… the stock hasn't moved higher in weeks.  Take a look…
Coming into the fourth week of pumping, I'd have to say this is clearly the worst effort we've seen from this group of paid stock promoters.
In addition, time's almost up… meaning this stock will be dropping off the cliff in no time!  Keep your eyes peeled in the next week or two for the fallout!
Media Sentiment (MSEZ)
I'm reading my voodoo chicken bones now… and I see very negative sentiment on Media Sentiment.
If you listen to OTC Reporter, however, they're saying different.  But of course they are… they cashed a quick check for their pumping efforts.  Their parent company, Garden State Resources NJ, LLC was paid $30,000 to tout shares of MSEZ.
The pumpers are happy to share Media Sentiment's ground breaking financial analysis software.  It gives subscribers a "thumbs up, or thumbs down" recommendation on stocks.  Wow… that is ground breaking.  There's no one out there doing stuff like that!  It should be an instant hit.  NOT!
As you'd expect, the pumpers only tell you the good stuff – the "potential" this company has.  They're not into giving you the facts on the company's financial status.
That's why I'll give you the low-down…
When I first started looking for financials on the SEC website, I only found filings dating back to 2010.  And that's when MSEZ terminated their SEC registration.  Apparently, the costs were too great for MSEZ to handle.
And you can see why…
Their March 2012 quarterly report shows Media Sentiment has just $48 in cash on the books!  Better still, they're saddled with over $424,000 in current liabilities.
But the company's accumulated deficit is way out of line… it's over $2.4 million!
Now, I skipped over the revenue and P&L stuff as it's a non event… like most pump and dumps.  They had a whopping $239 in sales and ran an operating loss of $3,925. That's hardly worth mentioning…
My favorite part about MSEZ has to be their ridiculous stock price… it's trading down at $0.0004, just four ten thousandths of a cent!  So even though the stock has a daily average volume of 37 million shares, the total amount changing hands each day comes to just over $15,000!
I don't know how this stock even trades given the sheer size of orders needed to trade it… especially if you're paying by the share. The commission would outweigh the value of the stock trade itself!
I think we've made it clear, keep your hands away from the buy button on MSEZ.
A final word (and warning).
These are just a few of the potential "pump and dumps" we've seen lately.
Remember, there's a lot more of this going on than we can highlight here.
As you know, penny stocks are a great place to invest your money.  You just have to do your due diligence to stay away from all the schemes and scams out there these days!
Until next time,
Brian Walker
Category: Pump & Dump Alerts