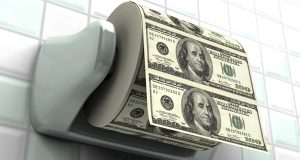 This week we're exposing these three popular Pump & Dumps:  Titan Iron Ore (TFER), MC Endeavors (MSMY), and Fireman's Contractors (FRCN).
That said, welcome to Pump and Dump Friday, where every week we highlight a few of the "bogus" promotions that are going on in penny stocks.
If you don't know how these scams work, be sure to check out this free report that exposes the whole thing. 
Without further ado, here are this week's disasters waiting to happen:
Titan Iron Ore (TFER)
It's déjà vu all over again… Instead of Jammin Java (JAMN) being advertised on banner ads, it's TFER. 
Here's how they get you…
You're browsing around the web searching the financial sites for your next big million dollar investment, and lo and behold… you see an ad on Yahoo Finance for TFER. 
Of course, you click the ad and get all the glowing information raving about how Titan is the best thing since sliced bread.  But we're not fooled…
Now it's not the fact Investors Publishing House (whoever they are) are running banner ads hyping Titan.  Someone is obviously paying them to do it.  It could be a large shareholder footing the bill… who knows. 
In fact, this promotion looks just like the job the pumpers did with Jammin Java.  Banner ads ran that stock from $0.17 to over $5 at one point… before it collapsed back to $0.30!
But when we put the company financials under a microscope, a number of red flags pop up…
First off, the company was just born on June 15th of 2011.  Or it has just become an iron ore company on this date.  Prior to being Titan Iron Ore, these guys were known as Digital Yearbook, Inc.  The company originally made software for the creation of interactive digital high school yearbooks. 
Are you kidding me?
I'll tell you one thing… that's not who I want running any mining company I'm investing in!
Now it's bad enough these guys are in the mining business for all of five months.  What's worse is they've massively diluted their shares… to the tune of a 37 for 1 stock split!
TFER started out with around 5.15 million shares.  After the split, they have 192 million shares
And it gets much worse…
The company doesn't make any money!  Even worse, they've accumulated a $429,000 loss since inception, and I quote… "it's operations continue to be funded primarily from sales of its stock."  That's right out of their SEC filings from September 30th, 2011. 
Finally, TFER has paid, or owes, a number of directors and officers "management fees" of anywhere from $10,000 to $94,500!  They're essentially pocketing the proceeds from stock sales for their own benefit! 
Now I'm sure these guys would love to turn their yearbook software venture into a great mining company… but it's looking pretty sad over at Titan.  I'd steer clear of this hyped up stock… we're still in the early innings on this one!
MC Endeavors (MSMY)
We've got another beauty of a penny stock promotion to dig into today… or should I say fractional penny stock.  Shares of MSMY trade for just $0.0025.  We've addressed them once before in our October 14th issue.
But leave it to the guys over at Hot Stock Profits… they're running an "awareness campaign" on MSMY for a quick $5,000. 
Here's what the big to-do is all about…
MC Endeavors has endeavored into a new business model… that of "Smart-Home Builder" and "Self-Sustainable Community Developer".  MSMY, like many of the penny stocks that make it to these pages, used to be a completely different business.  MSMY was once Theodore Mees Masonry Inc.  Wow, now there's a 180… masonry to green technology consulting!
Well I went to find their SEC documents to take a look… and they don't have anything filed with the SEC!  Now that's a big red flag.  But thankfully I was able to dig up some financial info on MSMY.
So how's business going?
Not so swimmingly.  They've taken in $27,000 in consulting revenues for the three months ending September 2011.  But unfortunately, they've spent $28,000 in expenses!  And their net operating loss is $5,700. 
The worst part about MSMY is they have 316 million shares of common stock outstanding!  This appears to be yet another penny stock funding operations from stock offerings.
But I've saved the best for last here… the company owes the CEO and President $53,682!  And they have $11,000 in cash on hand.  You can do the math, but it doesn't look like MSMY is long for this world…
Fireman's Contractors (FRCN)
Well, Investors Soup is pumping up yet another tasty dish this week… courtesy of the $20,000 the Quantum Consulting Group paid them to hype FRCN.   
I had to see what all the fuss was about, so I read the email.  It told me FRCN had a 290% increase in revenue recently… Should I spend $0.105 for a share of this stock?
Here's what I found…
The company description in the SEC filing quickly got my attention.  Get this… "The Company is a full-service contractor, specializing in commercial painting and parking lot maintenance services."
Since when do small painting companies need to go public?  I mean really… my cousin has a more profitable painting business he runs out of his backyard!  Maybe he should do an IPO!
Speaking of profits or lack thereof… FRCN lost over $200K for the three months ending September 2011.  That's pretty bad for a straightforward painting and striping service.
But things are even murkier on FRCN's balance sheet…
They've accumulated over $930,000 in debt and have only $3,000 in cash on hand!  That's not going to pay the rent for much longer.
Finally, the company's outstanding shares seem awfully high… there are over 80 million shares of FRCN outstanding.  That's a lot of shares for such a little company!
Just using common sense, you're best to leave this hyped up stock in the corner it's painted for itself…
A final word (and warning).
So that takes care of a few of this week's inglorious "pump and dumps".
Remember, there's a lot more of this going on each week than we highlight here.
As you know, penny stocks are a great place to invest your money.  You just have to do your due diligence to stay away from all the scams out there these days!
Until next time,
Brian Walker
Category: Pump & Dump Alerts