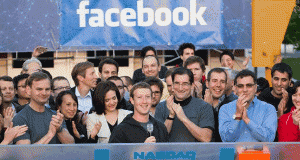 Last week my contacts were calling me about Greece.  This time around it's all about Facebook (FB).  It seems my phone won't stop ringing lately.
The first to call was one of my close friends, Steve, who's been in on the IPO for months now.  After watching FB flop on day one, he asked…
"Brian, I thought Facebook was "the" must have IPO.  So why didn't the stock make me a fortune?"
After recapping what was being said on the financial media stations I told Steve,
"Listen, I don't really know Steve.  I'm going to do some homework this weekend, and I'll call you Monday with an answer.  Just hang in there."
After scouring all of my resources, I called Steve up yesterday and told him what I found.  Unfortunately, he was freaking out even more because he not only didn't make anything off the Facebook IPO, he was down over 10% on his sizable investment.
Here's what I told him…
First off, shares of FB were priced putting a huge valuation on the company.   At the IPO price of $38, shares of Facebook were selling for 100 times last year's earnings… when most companies' stock trades around 13x.    Even the almighty Apple (AAPL), whose stock is $561, trades at 13.6x earnings.
Second, the underwriters' job was to raise capital for Facebook… not offer investors a quick double.
While you may not agree, Morgan Stanley (and others) did raise an obscene amount of money for Facebook.   They pulled in around $16 billion for the social media giant.  That's great for Facebook's balance sheet, but bad for investors holding FB shares right now.
There's no doubt, underwriters priced the stock way too high….
Even still, a host of other factors compounded this high-profile IPO disappointment.   All things being equal, NASDAQ's sketchy IPO software made everyone in the market jittery… literally.
If you were watching market action early in the morning, most major averages were up for the day.  But as the world waited, and waited, for shares to start trading, the gains seen in the major averages wilted away.   And that within itself was a contributing factor to Facebook's IPO breakdown.
You see, the Dow had just declined 11 of the previous 12 days.  All the major stock averages were looking for a reason to ignore Greece and rally.   Facebook was supposed to be the savior.    And as investors started panning shares of this hyped up IPO, the markets fell apart… putting even more selling pressure on the stock.
It seems as though what happened yesterday was a result of the damage done Friday…
In the coming days, I'm sure we'll find out exactly what happened (or at least what the insiders are willing to admit).   But my take is that Morgan Stanley used up all the available cash allocated to defend the $38 price on Friday… leaving them with nothing to use Monday.
As such, the undefended FB shares got crushed…
Of course, I couldn't get off the phone without being asked, "I know you can't tell me what to do, but what would you do?"
I said, "Listen, Steve… if you believe in the Facebook story, and you really trust the company will be able to monetize their huge base of users – then simply don't log into your account until next year."
I continued…
"Here's a dirty little secret you need to know… if FB shares don't get back up to the $38 level in the next couple of days, there will be margin calls.  People will have to sell the stock, sell other holdings in their account, or add cash to their account to meet the call."
He interrupted me… "Don't say that Brian.  I can't deal with another huge drop in the stock."
I continued, "I'm just saying that if that happens, this stock could go much lower in the very short term.  Since you own your shares outright, and are not using margin… you're fine.  But you have to be willing to ignore the paper loss."
My last comment to him was very direct…
"If you believe in the future of Facebook, you need to see this as an investment in your boy's college fund.   If not, take the 10% cash loss now and move on.  It's that simple." 
Obviously I didn't make my friend's decision any easier.  But there's one important lesson in the Facebook IPO debacle for Penny Stock Research readers…
Since penny stocks can be quite volatile, we often times see big percentage movement in them.  Knowing that, the next time a penny stock you're holding takes a hit, ask yourself the same questions I told my friend Steve to ask himself.   It won't put money in your account right away, but it might allow you to sleep at night knowing you have a plan.
Editor's Note:  Even with all the market volatility out there right now, our own penny stock guru, Gordon Lewis, has put together a strong performing portfolio of penny stocks.  Discover his secret to uncovering winning penny stocks…
Until next time,
Brian Walker
Category: Breaking News, Internet Stocks